Huge Boa Constrictor
This post generally deviates from my normal content that I post, but I couldn't pass up the opportunity to share this to my subscriber-base. You may or may not know, that I live in NJ and rather close to a popular destination spot called "Lake Hopatcong." It's a beautiful lake in Sussex County, New Jersey that brings out a lot of locals for boating activities, swimming and good family fun. The LAST thing anyone would ever expect is to see what I saw, A GIANT BOA CONSTRICTOR ON THE LAKE! I was on the water around 1:15pm on July 12th 2014 when I spotted and took the picture of the above creature.
Lake Hopatcong Area
If you've ever been to the lake or if you are interested in where I spotted this monster constrictor, it was in the northern region of the lake (above Brady Bridge, if you're familiar with the area) Below are the spots where the picture was taken (Images courtesy of Google Maps.)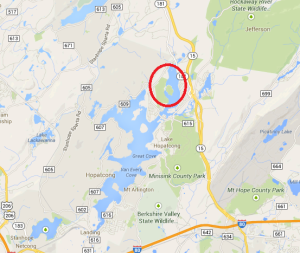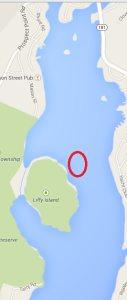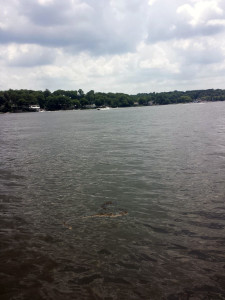 It's hard to tell from the picture, being as I was zoomed in about 3x on my Samsung Galaxy S4, but I was maybe about 35′ to 40′ away from what I thought was a log or something in the water, until I saw it move. To my shock and everyone else aboard, it was a snake and quite the large one at that. Judging from what I saw it looked to be about 12′ – 17′ long, which is rather rare for a wild python. My guess is that it used to belong to someone that could no longer care for the giant creature and if you're reading this, (next time bring your pet to the proper care, NOT A CROWDED LAKE!).
I plan on re-visiting the lake over the weekend to see if I can spot it again and perhaps get a better image (this time I'll be armed with my DSLR because optical zoom is way better than junky phone digital zoom!) Hopefully animal control can manage to take care of it soon before it turns away families from visiting the lake.
For more information about snakes and how to identify which are harmful to you, check this out
Thanks for reading and be sure to check back for (almost daily) updates! Tomorrow, I'll be back to posting regular content!