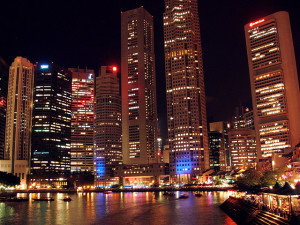 Become Your Own Boss
Seriously, wouldn't that be cool being your own boss? Making your own hours, earning all the money that you work for and no one to reprimand you if you don't feel like dressing well? Well, actually it's a possibility that many people just push out of their own thoughts because they don't have a clear-cut understanding of what it takes to run your own business. Now you don't have to have a business that requires your own skyscraper, although that would be really cool, but you can start your own business right from your own home and see where it takes you from there.
Getting Started
This is the tough part, starting. Every business started with an idea and that's exactly what you need. Fortunately there a great ideas all around you. For instance, what are you good at? What hobbies do you have? Personally, I love technology, that's why I've started various small online businesses that deal with technology and when I was younger I had a small business in the field of computer repair.
Lets say you love golfing, so you have interest in starting a business that has to do with golf. What's one thing that every player needs? A set of clubs, of course. So a great business plan would be to buy golf clubs in bulk and sell them as sets to people. You could create an online storefront using free software such as Prestashop, which is a free online e-commerce solution that allows for transactions for people to buy your products. You could have a home page that is all about golf and the sport you love. Describe each product in full detail to make a consumer go crazy for it and buy it right on the spot. Golf club selling is a really hot market today.
Where to get Funds
There are many places you can go to get start-up funds for your small business. You can take out a loan, but be sure to have a great business proposal with exact budgeting for what you need, that will help a bank issue a loan to you. You can set money aside from your current job to go into your own business as well. Or you can try a site like Kickstarter, which you pitch your business proposal to the world and people will donate money to you in order to see your business become a reality. Check them out and give them a try if you are really passionate about becoming your own boss.
Doing it Right
Of course you want to do things by the book to succeed, so there are many steps involved in the right way to go down the path of starting your own business from home. One thing you will need to do is become a legitimate business, by either owning an LLC, INC, Corp, etc… These are relatively easy to obtain from your state and usually cost a small fee. This way you are a registered business and can report income as a business owner to the IRS properly, so you don't get hit with fines from the IRS (nobody wants that!) These business licenses also carry with them protection for you in case anyone wants to sue you or doesn't like the service or product you sold. You can find out how to obtain these licenses by doing a quick search on how to get them in your state.
The Hardest Part
Now that you've started your business and you have all your products and/or services ready to go, you need to sell them. Ah yes, this is a crucial step to make sure you don't have things just left sitting around and not making you any money. Marketing is the hardest part of any business to get sales. There are various ways of getting your product seen by the public, we'll cover a few of them.
Online Advertising: This is easily becoming the largest way to start marketing your product or website. Placing ads on websites like Google, is an excellent way to gain exposure to your audience. Look into google's Adword program that allows your keywords to be boosted to the top searches withing Google, which has quite the significant share of the online search engine market.
Local Advertising

: Many businesses or shops in your town would love you to spend a few extra bucks to hang a flyer up in their window or put your ad on their menu to be seen by people who go into their business. This has been around forever and won't be going anywhere anytime soon. 

Newspaper Advertising

: Placing ads in the newspaper is also an effective means of getting your product and/or service out there to the public, although it will only be seen by a smaller group of people depending on where the print is distributed.

Television Advertising

: This method is usually a bit more expensive, but there are some providers that will display your advertisement on their networks for only a couple hundred dollars, this can get your ad out to a large audience as well.

Radio Advertising

: This is an older method that's still effective for many businesses, contact your local radio station or closest city station that you feel would be your targeted audience and see what they can work out for you.
What can I say, everybody needs help with this part. Don't be embarrassed by the title, but I strongly recommend Marketing For Dummies
. This book, which is brought to you the famous line of "For Dummies" products, is full of information that really breaks it down in such a simple way. It doesn't mean that you are a 'dummy' by reading it, you'll actually be glad you picked it up!
By now you should have a pretty clear-cut understanding on how to at least start-up your own business and how to get it out to the public. As always, please feel free to comment with something that you've done already or if you have any questions, please feel free to reach out to me and I'm always more than willing to help out! Check this out for extra confidence! Small Business For Dummies
Photo Credit: http://www.flickr.com/photos/buck82/