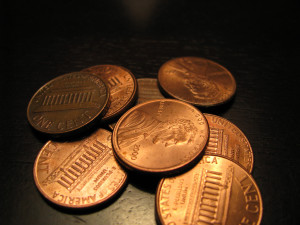 The Stock Market IS For YOU
Now, I know what you're thinking, "oh, no investing money in the stock market? that really isn't for me." Well, you'd be surprised by just how many people believe the same thing, but are really shocked when they figure out just how easy it is to earn a few extra bucks when they do some research and put money into publicly traded companies. There's a lot of skepticism when it comes to the stock market because of all the negative attention that the main-stream media has brought to it lately, but I'll give you some pointers on how to find out what's right for YOU, because there is ALWAYS an option that will cater to your needs!
Where do I start?
Fortunately for you, we don't live in the age of calling up financial advisers and trading firms as your only option to start trading. The first place to start is to open an online trading account. Most services such as TD Ameritrade, E-TRADE and various others offer new-membership incentives, such as comission free trading for the first X-amount of number of trades, etc… Once you've opened and funded an account, you'll be able to start buying and selling stocks. Now if you're looking to make money quickly, but don't have a lot of money to begin with, you're best bet is to go with penny stocks.
Companies Trading for Pennies?!?!
Yes, TONS of companies are currently at penny prices on "Pink Sheets," which means that they are registered as an "OTC Pink" stock. Basically they have a small market capital and enough shares for you to buy and sell to make some money. It is true that a lot of penny and sub-penny stocks can be SCAMS! GOOD NEWS! YOU CAN AVOID THESE! Most new investors don't often do their due diligence and RESEARCH these companies before they invest and can seriously get burned. YOU don't want to get burned, you want to make MONEY. It's easy to find information about VALID companies when looking online. Do some Google searches for the company and their symbol to see if: 1. You're interested in the product or service they provide. 2. If they are reporting income / loss / Public Relations messages, etc… If you see a company with HUGE potential, it's probably a good idea to invest into them. If you can't find out a lot of information or there is a company that claims they are focusing in "making movies, drilling for oil, buying marijuana land plots, saving the planet, etc…" all at once and they have a tiny market capital (<$10M) usually you know something's up and the PR's are generally faked so the stock can be pumped and then dumped, which you want to AVOID AT ALL COSTS.
Where to Research?
Research really is key as mentioned above, but often times you can't find good sources. Most major media outlets, such as Yahoo, Google, CNN, etc.. all have a "Finance" section, where they give their input and show stats on a stock. Don't forget that Market Wire is also a popular source as well. One trusted site that I use is from a great friend who runs the popular blog called "Stock Gambles." www.stockgambles.com is an AWESOME blog featuring UNBIASED opinions on what's hot in the penny-stock world at the moment. This guy Nathan Wratislaw isn't just another stock pumper / bs'er. His ENTIRE trading profile is PUBLIC. That's right, he posts what he buys and what he sells and you see how he does on www.stockgambles.com! Personally, I don't post my portfolio publicly, but I'm glad he does because some of his picks have really helped me earn money! Nathan is also a great guy because he's super responsive and almost ALWAYS available when you need to talk. Show him your support by checking out his blog or subscribing to him on YouTube by clicking HERE. His input on stocks is valuable and his EXTENSIVE research really puts confidence in my buys and I'm sure it will help you as well!
How do I Make Money?
Well, that's the hard part. Picking the right stock is basically a gamble because nobody knows whether the price of a stock is going to rise or going to fall. Be wise is my best advice. The only person you can trust is yourself and doing the correct research and using tools to your advantage can really put you in a better spot than going in blind. Look up terms such as "Level 2 trading" and learn how to use it to see where buy and sell orders are AS THEY'RE HAPPENING. You don't want to miss out on big opportunities, so look for PR's coming out from companies that are legitimate etc… Investorshub is also a great tool to see where other people's opinion of the stock and their validity are as well. But also be careful as people can be looking to pump and dump fake stocks. The responsibility and research will always come down to you and when you do it right you won't let yourself down! Feel free to comment or send me a message to get started if you need any help. As a disclaimer, I'm not a financial adviser and my opinions for certain stocks are just that and should be taken as such.
 Photo Credit: https://www.flickr.com/photos/johnhenryk/